Moser: Advocating for Neighborhood Issues Important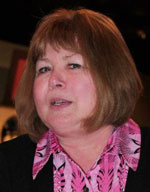 We clamor and cajole to be heard, to share our opinions, and to convince others of our "rightness". We are forever trying to get people to see OUR point of view.
I am no different. I plead guilty. I fully admit to using any means possible to wake up and connect the community where I live. I use blogs and Facebook as well as many other types of social media like Twitter and LinkedIn.
I interview community leaders in a video series, Nights at the Round Table. I leave my opinion on blogs and at the Washington Post, and numerous other on-line news sources. I send email, I write newsletters, I sit on committees and boards and councils, and I talk. I talk to anyone who will listen and try to explain my point of view, my concern, my caring for where I live. I talk to friends, strangers and politicians who are often some combination of those three preceding nouns.
I don't just talk. I also try to lead by example. I am not ashamed or embarrassed to pick up trash from the gutter or edge an overgrown sidewalk. The people who leave that trash for some 60 year old woman to pick up should be ashamed, but for me, it's a mission.
Sometimes, while I'm spending  hard hours in the heat, pushing and pulling an edger, creating a choking cloud of dust, straining my arthritic joints and praying that if I die on the spot, no one will say, "She died doing what she loved."
I don't love doing that. I don't love picking up used condoms and tampons that people with no shame have discarded on the street instead of disposing properly. I don't love painting over graffiti and I don't love stepping in dog feces while mowing some god-forsaken piece of property that doesn't belong to me. I don't love the endless hours of my life I spend reporting dump heaps and illegal signs.
What I do love is my community. It's worth fighting for and it's worth working for.
I complain, but I try to fix what's wrong. Not everyone likes that. Some people are afraid that acknowledging what is lacking is detrimental to our appearance. Many people seem to think it is not their business or it is not their responsibility. Some people think drawing attention to our shortcomings is a mistake. I think it's a mistake to ignore those shortcomings. None of the problems will go away of their own accord. That's why Neabsco Action Alliance was created.
Prince William County is a wonderful place to live. We are not perfect, nor will we ever be. I celebrate the good parts but I continue to look for solutions for the  parts that need improvement. That starts at the ground level with community maintenance and rises to policy decisions. I address as many issues as I can fit in a day and if I can't fix it myself, I advocate issues to people who may be able to help.

3 Responses to "Moser: Advocating for Neighborhood Issues Important" (Leave a Comment)