Osbourn Standout Pearson Aims to Bridge Gap Between Basketball & Football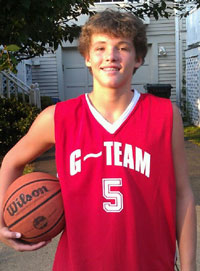 MANASSAS, Va. – Anthony Pearson's level of play imitates that of Paul George, a small forward from the Indiana Pacers.
He can shoot the long and medium jumper and has tremendously increased his hustle on the defensive side of the ball. If you were to attend one of his games, you may notice that his rebounding may set him apart from some of the others. He can't be packaged any better as a basketball player, according to his coaches.
This fall, Pearson, will attend Osbourn Senior High School in Manassas as a freshman, but hopes to show his skill sets while trying out for both the Eagles football and basketball teams.
For the last three years, Pearson has thrived in both sports. He has played for the Manassas Mutiny, a Virginia Youth Football Association team, and was also enrolled in the Manassas Park Youth Football League (MPFYL). During his 2012-2013 school year at Grace E. Metz Middle School, Pearson played the role of quarterback for the Mustang's football team.
In addition, he played AAU Basketball for the 14U Division with G Team Sports this past Spring. "Anthony is just an all-around player. He has long-range shooting ability and is an excellent ball handler," says his coach and trainer, George Logan, G Team Sports, Inc. "His rebounding and defense are his most-improved attributes this past season."
"I hope to gain experience if I am selected for any of the teams," Pearson states of his plan to tryout for both football and basketball at Osbourn. "If I am successful in making the team, I plan on working hard to one day get a scholarship."
At any given time, both of his parents, Melanie and Tony Pearson, can be found at his game in support of his endeavors and watching their son challenge himself either on the field or the court playing the two sports he enjoys. "I would have to say that my Mom, Dad and Coach Logan are my biggest supporters," said Anthony.
While only beginning his journey into the 9th grade, Anthony understands the essence of hard work and dedication to both of the sports he plans to play.
The one lesson he always remembers: "Never give up! It's important in football, basketball and life," says Pearson.