The Penultimate Week before School (or the Last Week of Summer Camp)
By CAROLYN BRODEUR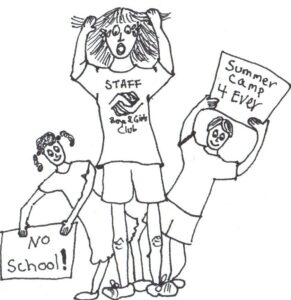 Ten weeks long, 12 hours a day, 5 days a week. To a summer camp counselor that can feel like forever. Although, most counselors work only between 6-8 hour shifts, they are often with the same group of kids, all day, and every day. The groups become like families, and like families, there is sometimes bickering and squabbling. The kids quickly learn which buttons to press to annoy their peers and the staff.  Even the most seasoned staff have to get creative to make it through the last week of camp (and still keep their sanity).
This week is trying for parents, too. They scramble to make sure that their kids are ready for school. They finalize their back to school shopping, buying clothes, supplies and uniforms. They double check their children's class schedules and get ready to meet their teachers. Many parents also look for an after-school program to enroll their kids in. All the while their children go on, acting as if the summer will never end.
The summer camp staff are also getting ready for school. They are planning their fall programs and taking registrations for the Before & After-school Program. Yet still, they work hard to keep their energy up and to maintain a fun and exciting camp for the kids. Their goal- make Summer Camp Week 10 as enjoyable and enriching as Summer Camp Week 1. With the support of their fellow camp staff and the Summer Camp Directors they usually succeed.
By the end of Summer Camp Week 10 the staff and kids are tired and ready for a change of pace, but everyone is sad to see the summer come to an end. Each camp is different, but most camps finish the week with one last hurrah. Some camps choose to host a talent show, others host a camp wide cook-out, or anything that brings the camp together one last time and celebrates the great summer experience that everyone had.
Though summer is often a fun and frenetic experience for staff, kids and parents alike, it eventually comes to an end leaving fond memories to be cherished for years to come.