In Memoriam: Helen Gertrude Liming Gibson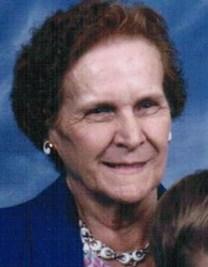 Helen Gertrude Liming Gibson, 82, of Stafford County, passed away peacefully on Thursday, August 8, 2013 at her home.
Mrs. Gibson grew up in the Joplin Community in Prince William County. During her adult life she made her home in Stafford, raising 10 children. She worked for the Free Lance Star as a carrier for more than 20 years where she enjoyed serving her customers and friends. She was an active member of Salem United Methodist Church. She was the treasurer for UMW for many years. Through her service in the church, she touched many in her community of Widewater.
Mrs. Gibson's life was for her children, over 40 years of raising her own children, and another decade of caring for her grandchildren. She has left us all with great memories of her love and she will live on our hearts.
Mrs. Gibson was preceded in death by her first husband, Walter A. Decatur; second husband Charles S. Gibson; son Walter A. Decatur Jr. and daughters, Patricia Decatur and Janie Andolsun.
She is survived by daughters Eleanor Crawford (Lin), Rose Breece (Brooks), Cindy Baldo (Mark) and Wendy Standard (Jim); sons Charles Gibson (Lisa), David Gibson (Lisa) and Michael Gibson (Chrissy); 19 grandchildren; 14 great- grandchildren and her caregiver, Janet Bowles, who loved and cared for her.
The family will receive friends at 1 p.m. Tuesday, August 13, at Mullins & Thompson Funeral Service, Stafford, where a funeral service will be held at 2 p.m. Interment will follow in Aquia Episcopal Church cemetery.