In Memoriam: Betty Rose Mann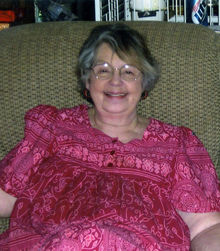 Betty Rose Mann,  71, of Herndon, Virginia passed away Tuesday, August 13, 2013 at her residence.
She was born on September 13, 1941 the daughter of the late Charlie J. and Nora Lee (Mayes) Knowles. She was the widow of Albert Leroy Mann.
Survivors include her three children,Christopher L. Mann(Lynnanne), John E. Mann (Sabrina), Brandon D. Mann (Tammie); Five Grandchildren, Ashley Mann, Brandon Mann, Justin Mann, Nicholas Mann and Zachery Mann and their mother Michelle Mann.
The family will receive friends from 10:00 – 11:00 am Saturday, August 17, 2013 at The Church of Jesus Christ of Latter-Day Saints, Franklin Ward, 2727 Centreville Road, Oak Hill, Virginia where funeral services will be held at 11:00 am with Bishop Michael Stevens officiating. Interment will be at Friendship Cemetery, Berkeley Springs, West Virginia.