In Memoriam: David Eugene Mabry Sr.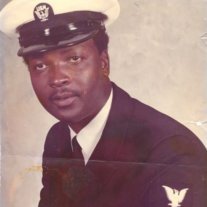 David Eugene Mabry, Sr. was born on January 29th, 1943, in Columbus, Georgia to the late Howard Golden Mabry and the late Rosa Mae Clarke Mabry. He departed this life on Saturday, August 3rd, 2013.
David met Curtistine Baker in 1964 and they were married on September 11, 1965 in Phenix City, Alabama.
David attended Carver High School in Columbus, Georgia. After working several jobs, he enlisted in the United States Army. After serving for two years, he enlisted in the United States Navy where he served for 26 years and retired with honor and distinction in 1990. While in the United States Navy, David traveled to several places outside of the United States. David loved working and staying busy, and after his retirement from the United States Navy, he began working for the Virginia State Correctional System at Indian Creek in Chesapeake, Virginia where he also retired.
He was a devoted family man; he loved his wife, children and grandchildren. He loved cooking, fishing, working in his garden and traveling. He enjoyed jazz music and he liked to recite the Lord's Prayer in French. He also liked to speak French around the house to his family. David had a strong sense of family; he was a loving and caring uncle. When David was not working, he spent a great deal of time teaching his kids how to repair things around the house, work on cars and sharing his life experiences and wisdom. He stated that his job in the United States Navy did not allow him to spend a lot of time with his family, but he always tried to ensure that the time he spent with them was quality time.
David had 15 siblings, his sisters, Mary Elizabeth Mabry, Gracie Majors, Estella Kimbrough, Mildred Harris, and his brothers, Wilbur Mabry, and Ralph C. Mabry preceded him in death.
He leaves to cherish in his memory: a loving and dedicated wife of 47 years, Curtistine Baker Mabry; a daughter, Yolanda Capri Mabry of Virginia Beach, Virginia, two sons, David Eugene Mabry, Jr. (Kimberly) of Gainesville, Virginia and Christopher Lamar Mabry of Virginia Beach, Virginia; three sisters, Delatha (Jackie) Lowe of Hinesville, Georgia, Rudine (Thaddeus) Mabry of Columbus, Georgia and Rebecca Mabry of Columbus, Georgia; five brothers, Howard (Dorothy) Mabry of Ellerslie, Georgia, Charlie Mabry of Columbus, Georgia, Thomas Mabry of Columbus, Georgia, Tyrone Mabry of Columbus, Georgia and Michael (Rayshawnda) Mabry of Columbus Georgia. Seven grandchildren, Andre Dion Mabry, Christina Capri Mabry, Alexandra Zabrina Mabry, Brandon Marcellous Mabry, Tatiana Marie Mabry, David Golden Mabry and Jonathan Michael Mabry and a host of other relatives and friends.
A viewing and funeral will be held on Tuesday, August 13th beginning at 10:00 a.m.at the First Baptist Church of Manassas, 9258 Center St. Manassas, VA 20110.
Flowers are welcome but memorial contributions may be sent to VCU Massey Cancer Center or Sentara Princess Anne Hospice.