Cuccinelli Firm on Bi-County Parkway, McAuliffe Wants More Federal Jobs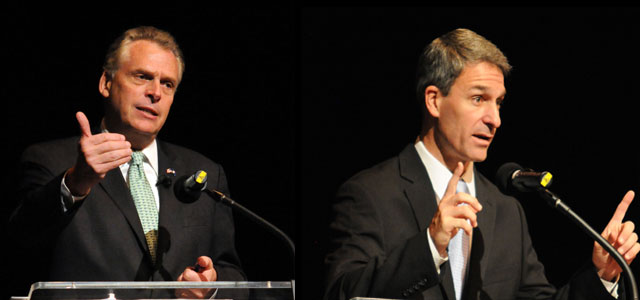 MANASSAS, Va. – Giving a solid answer on his view of the Bi-County Parkway, Virginia Attorney General and Virginia Republican Gubernatorial candidate Ken Cuccinelli supports the Bi-County Parkway between Interstate 95 in Dumfries and Dulles Airport.
"With the tremendous growth in Loudoun, and Prince William County, and the region, we need new transportation options, but the current proposal on the table is unacceptable," said Cuccinelli. "We cannot be closing roads down just so we can build a new road…we need all the transportation options we can get."
He's referring to an agreement between the state the National Park Service to close U.S. 29 at Va. 234 inside the Manassas National Battlefield Park once the Bi-County Parkway, now under study, is built.
Cuccinelli, of Prince William County, said that as governor he would work to let "locals" to determine the best route for the highway.
His opponent, Terry McAullife, of Fairfax County, avoided a direct position on the proposed highway, but said Dulles is a cargo hub that needs to be expanded so more goods can be shipped to China and Korea.
"… I do not make [transportation] decisions [as governor], nor will I make decisions until I have all the facts in front of me," said McAuliffe. "I want to get all of the stakeholders in the room…I love a win-win situation…to have economic development… and local say in how things are done."
Neither candidate shook hands today, nor did they ever occupy the stage at the same time. But both men who want to sit in Virginia's Governor's Mansion came to the Hylton Performing Arts Center in Manassas to field questions from members of several regional chambers of commerce for a "Battleground Forum."
In addition to the pressing transportation issues, education, jobs, and healthcare questions dominated the discussion.
While he incorrectly stated that Virginia ranks 50th in public school teacher pay (it ranks 30th among all U.S. states in average teacher salaries), Cuccinelli and McAuliffe both agreed the Virginia's Standards of Learning tests are outdated.
"SOLS don't work. This high stakes multiple choice test at the end of the year…it doesn't work for students and it doesn't work for parents," said McAuliffe.
Both men also agreed on drilling off Virginia's Atlantic coastline to find new sources of energy. But the candidates are divided over coal — which is abundant supply in the southwest portion of the state.
"The war on coal is a war on the poor in Virginia…I will fight for them. My opponent said we need to move past coal," said Cuccinelli.
Both men took each other to task over attracting new businesses and jobs to the state, with McAuliffe noting he wants more tax incentives to bring large companies to the state, while Cuccinelli said he wants to review all tax credits, but would not say which ones need to be repealed.
"My opponent says any job from the Federal Government is a not a good job. I don't believe that. As governor, I want to go to the Federal Government to get as much money as I can for Virginia. Thats the job of the governor." said McAuliffe.
The Attorney General used the jobs platform to once again attack McAuliffe for his automotive company's decision to build an auto factory in Mississippi, not Virginia, and producing some 1,500 jobs in that state.
"Terry is the only candidate that has chased business out of this state," said Cuccinelli.
McAuliffe used Cuccinelli's reputation as an ideological conservative who sued the federal government over the implementation of Obamacare, and has been an outspoken opponent on a woman's right to choose.
"In this race you have a choice for rigid ideology and mainstream compromise," said McAuliffe. "I like mainstream compromise."
As a new federal healthcare mandate expands in Virginia, McAuliffe says it'll provide quality care to more than 400,000 Virginians in need.
His opponent said once the state is forced to pay for Obamacare as a whole, it will need to add an additional $200 million to its annual budget to meet the federal mandate. He also used the Obamacare initiative to distance himself from current Republican Governor Robert F. McDonnell, who has been under fire for accepting corporate gifts for his daughter's wedding and not reporting them as required by law.
"Governor McDonnell took a broad view of Medicaid. I take a deep and narrow view
and do not support medicaid expansion, it's been the largest, fastest growing, out of control part of our budget, once we get in we can't get out without federal permission," said Cuccinelli.
Today's forum comes before the two are set to debate on Sept. 25, at the Fairfax Chamber of Commerce.

7 Responses to "Cuccinelli Firm on Bi-County Parkway, McAuliffe Wants More Federal Jobs" (Leave a Comment)