Ginn Memorial Park Opens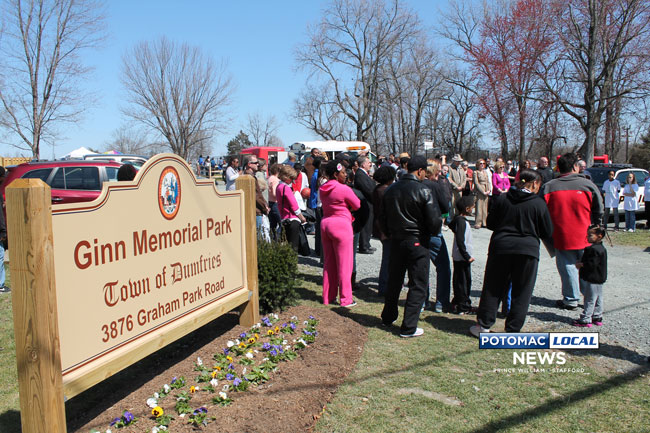 DUMFRIES, Va. – Children and residents of Williamstown come out and play: Ginn Memorial Park is officially open.
Complete with an NBA sized basketball court, horseshoe pits, playground, and mufti-purpose field, the park in Dumfries opened to fanfare on Saturday.
The 2.8 acre, $344,000 park is expected to serve mostly the Williamstown neighborhood, an adjacent community with about 900 homes.
"Everyone being here at the right place at the right time has brought all of us here today," said Dumfries Vice-Mayor Willie Toney, who built the promise of the park into his political campaign platform. "We have to give our young people a place to play and to give them something to do.
The park will be open to the public from sun up to sundown each day, and was compilation of efforts from residents, and those who work in several town government departments from public works to police.
"There is no way this community will ever be the same," said Toney, who added police will regularly patrol the park to maintain public safety here. "I've done all I can do. Now it's up to the young people who use it to take care of it."
Ginn Memorial joins the Weems-Botts Museum, it's adjacent Merchant Park, and Garrison Park behind Town Hall as destinations in the small town of 5,000 residents. While Dumfries built the park, it's open too all area residents.
"Town events hosted at Ginn Memorial Park are investments in our neighborhoods and have a direct impact on families, and provide our children a safe, state-of-the art place to play year-round, as well as a place where parents and neighbors can come together.  With Ginn Memorial Park, the Town of Dumfries has established itself as the gathering point for Southeastern Prince William County." said Mayor Gerald M. Foreman.
Everyone who came to the grand opening ceremony was treated to a small Frisbee and plush football, each printed with Dumfries, Va. Those footballs were tossed about on the new field as children joined Town Manager Dan Taber who helped to coordinate a day of field games. The field will remain open to the community, but area sports teams will not be allowed to play regularly scheduled games on the turf due to stipulations of the grant used to fund the park's construction and operation, according to Foreman.