Suspects, Victim Identified in Dumfries Homicide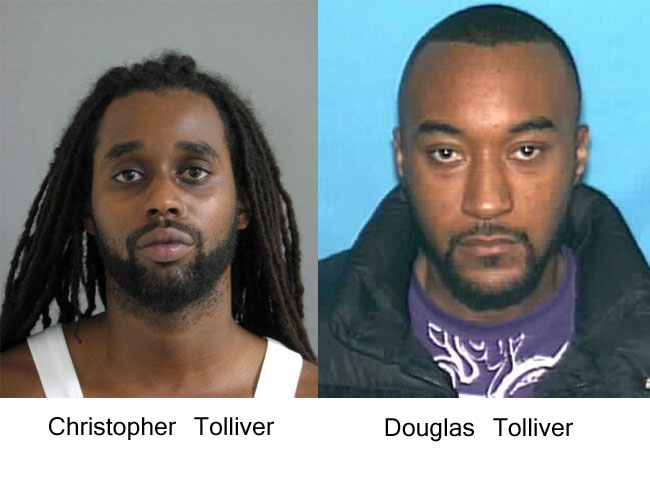 UPDATE 9:30 a.m. Friday, January 18, 2013
FROM POLICE REPORTS
Murder *SUSPECTS IDENTIFIED – On January 17th, detectives from the Violent Crimes Bureau identified 2 suspects involved in the homicide from which was reported to have occurred in the 17600 block of Washington St in Dumfries earlier that morning. The investigation revealed that both suspects were involved in the killing of the victim following a previous encounter. The 2 suspects knew the victim and there is believed to be a third male, not identified. Through an extensive investigation, detectives obtained warrants against the 2 known suspects, as well as, executed multiple search warrants at 17675 Washington St #'s 204 and 101. The suspects were not located and remain wanted. Detectives are still working to locate these suspects and identify the third man involved. This case has been classified as a murder. The investigation continues.
Wanted: (Photo from 2010)
Christopher Jonathon TOLLIVER, 27, of 17675 Washington St #204 in Dumfries
Described as a black male, 5'07", 150lbs, with black hair and brown eyes
*Maybe driving a Red Chevrolet Cruz with unknown Maryland license plates
Wanted for 1st degree murder
Wanted: (Photo from 2009)
Douglas Jason TOLLIVER, 29, of 4229 Jonathan Ct in Dumfries
Described as a black male, 5'06", 150lbs, with black hair and brown eyes
Wanted for 1st degree murder
Identified:
The victim has been identified as Tasheka Lashon LEAVELL, 35, of Dumfries
Anyone with information relating to this case is asked to call Crime Solvers at 703-670-3700 or 1-866-411-TIPS. You don't have to give your name, just the information. You could earn up to a $1,000 cash reward.
UPDATE
Police have confirmed a woman was shot and killed at a Dumfries trailer park last night.
More in a statement from police:
On January 17th at 3:26AM, police responded to the 17600 block of Washington St in Dumfries (22026) for a shooting. Caller reported to police that gunshots were heard at an address in the above area. Officers arrived and discovered the victim, an adult female, suffering from gunshot wounds to the upper body. Rescue personnel responded and pronounced the victim dead at the scene. The investigation continues.
This is the second homicide in Prince William County in the past two days. Late Tuesday night, a man was found dead on Cardin Place in Dale City. 
8:30 a.m. Thursday, Jan. 17, 2013
DUMFRIES, Va. – Police are on the scene of a fatal shooting at the Cedar Knoll trailer park in Dumfries.
Neighbors said a woman was shot to death inside of her trailer home, which sits inside a small  park just off Washington Street and U.S. 1 near Dumfries Town Hall.
The victim is said to be a female and was shot about 3 a.m. Prince William police are investigating the incident but have yet to release details. Their efforts appear to be focused on trailer 16 here in the park, a blue trailer that has been roped off with police tape.
Roly Melgar, a neighbor who lives up the street from where the shooting took place, said he heard his dogs barking and then got up to to see a man screaming for help saying his girlfriend had been shot in the face. Melgar instantly knew it was his neighbor and he went outside to help him.
"He was screaming 'what are you all doing… she's in there dying,' so I went to his house to help. When I got there, I could see her lying there… she wasn't breathing… and her face seemed pretty messed up," said Melgar.
It was apparent the victim had been shot several times, he added.
It's unclear who pulled the trigger last night. The man who Melgar went to help, whom he called Shawn, told Melgar he did not hear anyone come inside the house, and that he woke to the sound of gunshots and found his girlfriend shot.
Neighbors who live next door to trailer 16 also heard the man outside screaming for help after the shooting. One woman likened gunshots to the sound of five firecrackers being set off at once.