News

Fallen Police Officer Yung Remembered During Funeral, Cross-County Procession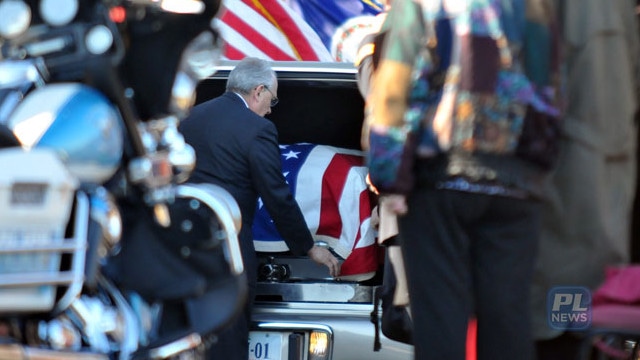 Story By URIAH KISER
Photos By MARY DAVIDSON
WOODBRIDGE, Va. — Cold temperatures filled the air as memories of Prince William police officer Chris Yung were shared at the Hylton Memorial Chapel.
A funeral service was held Friday morning to remember the 35-year-old motorcycle officer who was killed on New Years Eve while responding to a car crash near Bristow. With lights and sirens activated, Yung's motorcycle collided with a minivan outside of Sowder Village Square shopping center at Va. 28 and Piper Lane.
Yung was remembered as a dedicated father, husband, friend, and outstanding police officer.
"If you would given him a few minutes of your time, you would have walked away a friend forever," said Dale Yung, Chris Yung's brother.
Dale Yung said his brother inspired him to become a Prince William police officer, said his brother loved to ride motorcycles since a young age, and that he was always looking for the next challenge in life. After serving in the Marine Corps, Yung found that faced that challenge for the past seven years as a police officer.
"Chris was a special person with a big heart. He understood what police work was about…from members of the community, to our colleagues in law enforcement, to our fire fighter friends, we lost one of our very best," said Acting Prince William police Chief Barry Barnard.
Police work was a family affair for Yung. Not only did he encourage his brother to become a law enforcement officer, his sister in-law is also a police officer, and his widow has also worn the uniform.
Several police agencies from across Virginia, Maryland, and Washington, D.C., as well as local fire and rescue squads were on hand to bid farewell to the officer. The funeral service inside the chapel was open to the public while audio of the ceremony was piped outdoors for reporters to hear, as well as police officers who were assisting with funeral operations, and mounted police officers on horseback who stood post nearby in the chapel's parking lot.
A large U.S. Flag hung from two ladder fire engines above the entrance to the chapel. Following the funeral a procession passed under the flag included hundreds of police cars, and motorcycles. The casket carrying Yung's body and a police motorcycle symbolic of the one Yung used while on duty were also apart of the procession that that made it's way to the Eastern District Police Station in Woodbridge, then to the Western District Station in Manassas, and then to Quantico where it was received at a reception at the National Museum of the Marine Corps.
MORE to the STORY: Hear the final End of Watch radio transmission for Prince William County Police Officer Chris Yung
During the 30 minutes it took for the processional to pass the Eastern District Station, drivers slowed and neighbors looked on as the wave of police passed. Some waived flags while others put their hand over their hearts in a show of respect for a man who died doing what he loved, and serving his community.
Yung leaves behind a wife and three children. He is the third Prince William police officer to die in the line of duty since the department was founded in 1970.
Send news and photos to Potomac Local
Subscribe Now for Free!
Get
updates straight to your inbox.
A word from our sponsors...