Today's Obama Visit in Fairfax Brings Road Closures
News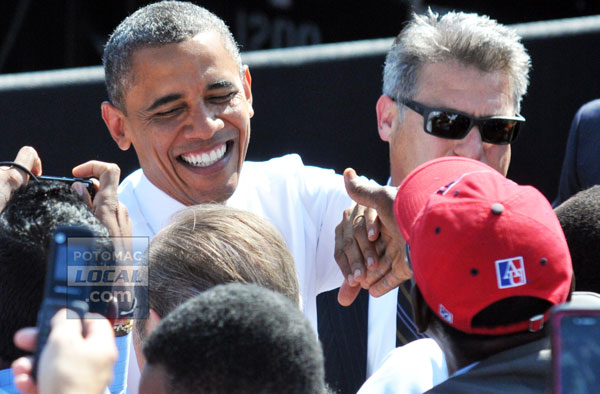 By KJ MUSHUNG
FAIRFAX, Va. — President Barack Obama is appearing in Fairfax, Va., at George Mason University on Friday, Oct. 19. Exactly two weeks ago he spoke at the college's Center for the Arts. This time, however, he will speak at the Recreation and Athletic Complex.
 The complex is located at 4350 Banister Creek Court in Fairfax.
The president is expected to discuss the choice facing women in this election and his commitment to giving women more control over their personal health care decisions. He is scheduled to go on at 11:45 a.m.
Virginia State Police are warning drivers to expect lengthy delays in the area of GMU today as security precautions will prompt the closure of some roads. More form state police:
From 10 a.m. to 1 p.m. Friday, any vehicles larger than a sport utility vehicle (SUV) will be detoured off of Route 123/Ox Road near GMU.
Such vehicles traveling north on Route 123 will be detoured around GMU as follows:
Right on Braddock Road
Left on Roberts Road
Left on Main Street (Route 236 West) to Route 123 north
Such vehicles traveling south on Route 123 will be detoured around GMU as follows:
Left onto School Street
Left onto George Mason Boulevard
Right onto Main Street (Route 236 East)
Right onto Roberts Road
Right onto Zion Road
Left onto Route 123 South
Send news and photos to Potomac Local