News

Crime Watch: Arrest Made in Strangulation Case

FROM POLICE REPORTS 

Dale City

Reckless Handling of a Firearm – On October 7th at 11:49PM, police responded to the 5500 block of Neddleton Ave in Woodbridge (22193) for a shots fired call. Callers reported to police that several gun shots were heard in the area. Officers arrived in the area and located shell casings. No injuries or property damage were reported. No suspects were located.

Residential Burglary – On October 5th at 5:00PM, police responded to the 14200 block of Lindendale Rd in Woodbridge (22193) for a burglary. Homeowner reported to police that the burglary occurred between 11:00AM and 3:00PM. Entry appeared to have been made through a rear door which had been forced open. Jewelry, 2 gaming consoles and other property, valued around $1,400, were reported missing.

Residential Burglary – On October 4th at 8:31PM, police responded to the 14400 block of Simmons Ln in Woodbridge (22193) for a burglary. Homeowner reported to police that the burglary occurred between 10:30Am and 8:00PM. Entry appeared to have been made through a rear door which had been forced open. Jewelry and 2 laptops, valued around $1,000, were reported missing.

Triangle

Residential Burglary – On October 6th at 3:28PM, police responded to the 3600 block of Stonewall Manor Dr in Triangle (22172) for a burglary. Homeowner reported to police that the burglary occurred between 6:00PM on October 5th and 11:30AM on October 6th. There were no signs of forced entry into the residence. Two gaming consoles, valued around $600, were reported missing.

Woodbridge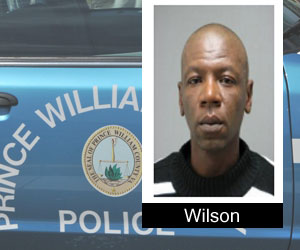 Strangulation *ARREST – On October 5th, the accused turned himself into police without incident in regard to the assault which was reported in the 14600 block of Potomac Mills Rd in Woodbridge on October 3rd. This incident brief was previously released in the Daily Incident Report on October 4th.
Arrested:
Anthony Eugene WILSON, 46, of no fixed address
Charged with strangulation
Court date and bond information unavailable
Strangulation (Previously Released) – On October 3rd at 11:50PM, police responded to the 14600 block of Potomac Mills Rd in Woodbridge (22192) for an assault. The victim, a 29 year old woman of Woodbridge, reported to police that she and the accused, a known acquaintance, where involved in a physical altercation in the above area. The accused allegedly walked up to the victim and punched her, knocking her to the ground. The victim attempted to run away but the accused caught up to her and knocked her to the ground a second time. At this point, the accused got on top of the victim and began to strangle her. A witness to the incident was able to get the accused off of the victim. The accused left the area prior to police arrival. The victim sustained minor injuries. Following an investigation, a warrant was obtained against the accused.
Residential Burglary – On October 7th at 4:36PM, police responded to the 11400 block of Bacon Race Rd in Woodbridge (22192) for a burglary in progress. Homeowner reported to police that as he was arriving at the residence, he observed two male juveniles exiting his garage. Once discovered by the homeowner, the juveniles ran from the area. Entry appeared to have been gained through a rear window which had been broken out. No property was reported missing. No descriptions of the suspects were provided to police.
Residential Burglary – On October 5th at 5:41PM, police responded to the 3900 block of Red Bird Ln in Woodbridge (22193) for a burglary. Homeowner reported to police that the burglary occurred between 11:00AM and 4:45PM. There were no signs of forced entry into the residence. Entry is believed to have been made through an unlocked door. A laptop and a gaming console with equipment, valued around $1,000, were reported missing.
Send news and photos to Potomac Local
Subscribe to the weekday Breakfast Links email FREE!
Get
updates straight to your inbox.
A word from our sponsors...
January 4, 2018 Comments off