Victims Unit Probes Sex Assault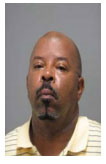 From police reports:
Aggravated Sexual Battery – On August 21st at 8:36PM, detectives from the Special Victims Bureau conducted an investigation into an assault which was reported to have occurred in the 13500 block of Princedale Dr in Dale City. The investigation revealed that the victim, a 13-year-old girl of Woodbridge, was sexually assaulted by the accused, a known family member, in 2010. Following an investigation, the accused was subsequently arrested.
Arrested:
Garry WILKINS, 51, of the 13500 block of Princedale Dr in Dale City
Charged with aggravated sexual battery
Court date unavailable, held WITHOUT bond
Send news and photos to Potomac Local
One Response to "Victims Unit Probes Sex Assault" (Leave a Comment)