Heart Event to Offer Free Health Screenings
July 17, 2012 12:45 pm - Potomac Local News
SPONSORED POST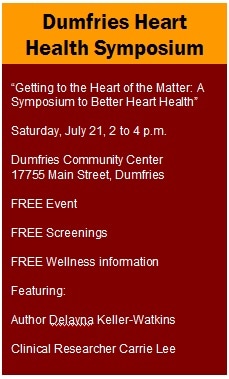 The Town of Dumfries through a partnership with Big Sis & Company will hold a special this Saturday that will feature free screenings and wellness information aimed at helping residents live a heart healthier lifestyle.
"Getting to the Heart of the Matter: A Symposium to Better Heart Health" will be from 2 to 4 p.m. at the Dumfries Community Center 17755 Main Street. The event is free to attend and will feature a panel of great speakers.
Panel of Speakers
Delayna Keller-Watkins
Author
Delayna Keller-Watkins is a global and award-winning Registered Nurse and Certified Wellness Coach in the areas of self-care and personal wellness. For over twp decades Keller-Watins has been serving wellness seeking women and young girls through her seminars, products and programs.
She is an author, motivational speaker, and founder of Delayna Keller Watkins, Inc. and Healthy Soul, LLC a lifestyle company designed to help women achieve optimal health and wellness through the integration of mind, body and spirit.
Since pursuing her passion, she has been featured in the Women's Journal Magazine and appeared as a Women's Self-Care expert on several Internet Radio Shows and Local Public Television.
Keller-Watkins has provided seminars or presentations for companies such as Kinetic Concepts, Inc. (KCI), Dimensions Healthcare, Sisters4Sisters, Inc., Prince Georges County Public Schools, Kennedy Foundation, Inc., Sisters Network, Akoma Project, Blue Cross and Blue Shield, Georgetown University, and others.
Carrie Lee
Manassas Clinical Research
Manassas Clinical Research center is a private practice of internal medicine and clinical research. The organization serves Northern Virginia and the greater Washington, D.C. area, and is a subsidiary of Burke Internal Medicine.Dr. Andrawis and his wife, Dr. Gabra, who are primary care physicians.
One out of every six people in this country never see the doctor for a regular check up since they do not have medical insurance. As a result many diseases with no symptoms like hypertension, diabetes and high cholesterol go undetected.
These diseases are silent killers since they can cause heart attack, stroke or even sudden death if untreated. It's important to detect and treat these silent killer diseases in people with no medical insurance who never see a doctor because of the cost of medical care.