News

Officials on Lookout for Illegal Fireworks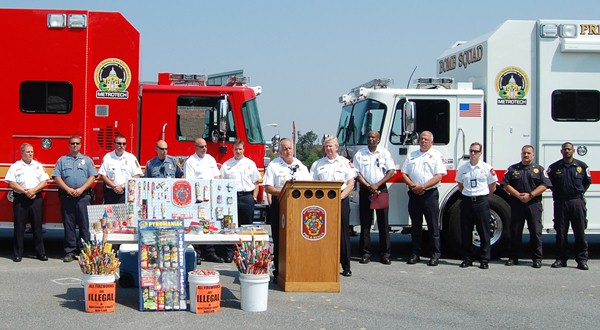 Fire officials throughout the region have asked residents to "leave the fireworks to the professionals."
That's the message from area fire chiefs this year as they work to call attention to the dangers of illegal fireworks. Officials from Prince William County, and from other jurisdictions in the Washington area, on Thursday converged on a public safety training ground in Maryland to demonstrate how dangerous a mishandled firework can be.
"Each year, locally and across the U.S., people of all ages are seriously injured by fireworks – legal and illegal. According to the National Fire Prevention Association, 83 percent of fireworks injuries treated in emergency rooms involved fireworks that federal regulations permit consumers to use. Fire officials are encouraging people that the safest way to enjoy fireworks is to not use fireworks and visit the various public displays throughout the region at counties, cities, towns, parks and other venues," stated Prince William County Fire and Rescue Department spokeswoman Kim Hylander.
Prince William police on July 4 will be on the lookout for illegal fireworks as part of their "you light, we'll write it" campaign. Officers will confiscate fireworks not allowed by Virginia law. Using illegal fireworks in Virginia could result in up to a year in jail and up to a $2,500 fine, said Hylander.
Send news and photos to Potomac Local
Subscribe Now for Free!
Get
updates straight to your inbox.
A word from our sponsors...