Dumfries' Yohey 'Beat the Odds' at Life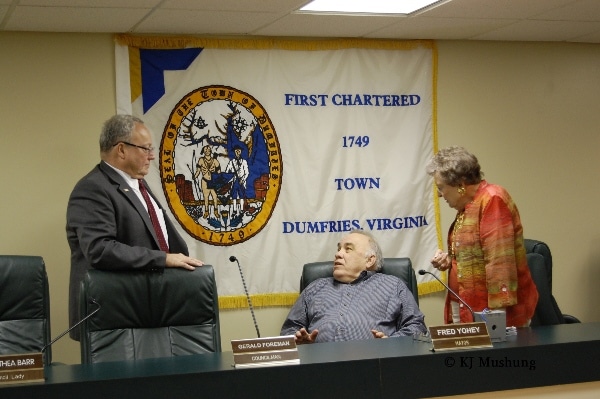 By Uriah Kiser
Dumfries, Va. – As much as he was fired up lately about a foul stench coming from a landfill, he was equally as excited about a new park and coming street scape improvements on Dumfries'  Main Street.
Dumfries Mayor Fred Yohey died Sunday at age of 63 after complications from juvenile diabetes, said Dumfries Vice Mayor Nancy West. It's an ailment that haunted him all of his life, one Yohey would discuss with West when he would call her at home to discuss the events of the day.
"I feel like I've lost a good friend," said West. "You know, people from our generation, like Fred, who have juvenile diabetes didn't have a long life expectancy. Fred said he expected to live until his early to mid thirties, and he once told me 'I've beat the odds and lived this long,'" said West.
West and her husband met Yohey while attending Dumfries United Methodist Church.
Over the course of the last month Yohey's health was beginning to fade. West presided over the town's last council meeting on Nov. 1 in Yohey's absence. His eyesight was failing and he resigned from driving a car, said West.
He was admitted to Sentara Potomac Hospital on Oct. 22 and was placed into medical coma. Word of his death came late Sunday night.
Yohey, a retired federal worker, made a day job out of being mayor. Most days showed up at town hall at 10 a.m. and stay until after 5 p.m. "He was really excited about the staff we have working in the town, about how well trained and professional they are," said West.
Yohey would have turned 64-years-old next month, and had he just finished serving the the first two years of a four-year term. It was his second term as elected mayor.
Town council will meet again Nov. 15 and West will once more preside over the meeting. Its expected she will serve as interim town mayor for up to 45 days until the council appoints a new mayor.
The town will hold a scheduled election in May as three current town council members, including West, will be up for reelection. If a mayoral candidate steps forward in May and is elected, they will serve the remaining two years of Yohey's term, said West.
A memorial service will be held for Yohey at 1 p.m. Thursday at Mountcastle Funeral Home on Dale Boulevard in Dale City. He will be buried at Dumfries Cemetery behind Dumfries Elementary School.