News

P-Nats Get the Win Despite Heavy Rains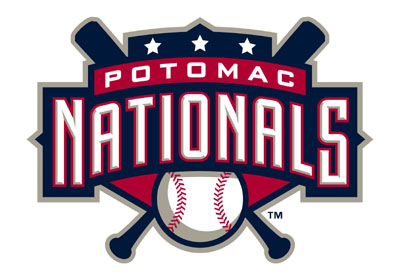 Woodbridge, Va. –– With heavy rains falling in the eighth inning, Eury Perez lashed a two-run single into center field in that put the Nationals in front for the first time all night. Seconds later, the game was called because of heavy rain and Potomac had a 5-4 victory.
The Nationals came into the eighth trailing 4-2 and steady showers falling. After Destin Hood struck out to open the inning, the crucial rally began. Justin Bloxom hit his second home run of the evening to pull Potomac within one. Steven Souza then hit a bullet into center field before J.P. Ramirez dropped a blooper into left field to put two runners aboard with one away. Sandy Leon hit a ground ball to short that cut down Ramirez at second and put the Rocks within one out of a rain-shortened victory.
But Justin Marks walked Francisco Soriano to load the bases and bring Perez to the plate. The center fielder's shot into center brought home two runs and gave Potomac (13-21) a quasi walk-off victory.
Wilmington (19-15) got three runs in the first inning, and they did so without hitting a ball out of the infield. A leadoff single to third set the tone for the Blue Rocks in the first; Justin Bloxom bare-handed the ball off the bat off Whit Merrifield and fired a throw wide of first that allowed Merrifield to advance to third. Carlo Testa then pushed a bunt single down the third base line.
Rey Navarro then hit a hot shot to third; Bloxom fielded cleanly and cut down Testa at second for the inning's first hit. Merrifield held at third, but his baserunning mistake got the Nationals their second out and offered Rosenbaum a chance to escape the inning unscathed. When Nick Francis hit a weak grounder back to Rosenbaum, Merrifield broke for home and was dead in the water. He was caught in a run down, though Navarro and Francis advanced to second and third.
John Whittleman was then walked to load the bases. Tim Ferguson made the first solid contact of the inning and hit a ball on one hop to second. Jeff Kobernus could not handle it and two runs came into score. Alex McClure then reached on another ground ball to third – the Rocks' third infield single of the inning – to plate the inning's third run.
Potomac got a run back in the second inning when Bloxom hit his first homer of the season to right. But Wilmington got that tally right back in their half of the third. Another infield single for Francis with one out set the table. Whittleman then hit a high fly ball to left that bounced off the wall and put two Rocks in scoring position. Ferguson's second single of the evening came on a blooper to right and made it 4-1 Wilmington.
Potomac pulled within two in the seventh inning. After Sandy Leon led off the frame with a single Francisco Soriano bunted back to the mound. Blue Rocks starter Tyler Sample threw wildly past first base, allowing the Nats to put runners at second and third with one out. Perez grounded out to second to make it 4-2.
The two clubs play the rubber match Sunday afternoon at 1:05 p.m. Mitchell Clegg takes the mound against Jake Odorizzi.
Send news and photos to Potomac Local
Subscribe Now for Free!
Get
updates straight to your inbox.
A word from our sponsors...