McDonnell to Approve Redistricting Plan
April 28, 2011 9:38 pm - Potomac Local News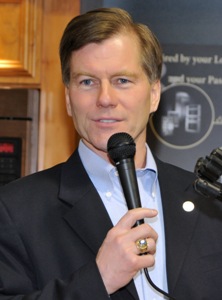 It appears the Potomac Communities will get a new Virginia House of Delegates seat.
Gov. Robert F. McDonnell will sign off on a compromise between the Virginia Senate and House of Representatives that would shift the state's 2nd House District to the Potomac Communities.
"I thank the General Assembly for passing this new redistricting plan. I will sign this legislation as soon as it reaches my desk. The plan as passed does address most of the criteria I outlined in my veto letter, and ensures that the elected members of the legislative branch fulfill their constitutional obligation to draw our electoral lines every ten years," stated McDonnell in a statement.
Once the governor signs it the maps will be sent to the U.S. Department of Justice for final approval under the Voting Rights Act of 1964. McDonnell earlier this month vetoed a plan that would have, among other things, split Prince William County across six Virginia Senate districts.
The new map does not split up the county as drastically, but does have changes in store for the Potomac Communities.
Mount Vernon Senator Toddy Puller (D-36) would still keep a majority of eastern Prince William County, but would pick up portions of the Griffs-Widewater and Rockhill districts in Stafford County, areas now represented by Republican Senator Richard Stuart (R-28, Montross).
Stuart would pick up additional portions of western Prince William County has part of the new plan.
The shifted 2nd House District does not have an incumbent, but has raised the eyebrows of some local politicians – like Stafford County Board of Supervisor's Republican Chairman Mark Dudenhefer  –– who would has expressed an interest in trying to fill the seat.
The district will be shifted here from Southwest Virginia after population there declined.
Also on the House side, Del. Richard Anderson (R-51, Lake Ridge) would also add portions of western Prince William County to his sprawling district.
Del. Luke Torian (D-52, Dumfries) will pick up Occoquan as part of the plan, which would be vacated by Anderson.
By law, political districts must be redrawn every 10 years following the Census to reflect population change.