Road Plan Limits Access to Businesses
April 6, 2011 8:00 am - Potomac Local News
Woodbridge, Va. –– Take a glancing look at the proposed highway interchange for North Woodbridge and you'll see a comprehensive, color coded plan to improve traffic flow on U.S. 1.
Take a closer look and you'll see a plan that business owners say will force many of them to close.
Late last month, Woodbridge residents got an updated look at what a highway interchange at U.S. 1 and Gordon Boulevard (Va. 123) would look like, and what affect it would have on the neighborhood. If built, drivers would use ramps to access Va. 123, which will run above U.S. 1.
Va. 123 will connect with Belmont Bay Drive, providing easier access to the mixed-use Belmont Bay development near the Woodbridge Virginia Railway Express station.
In addition to an interchange, the project aims to widen U.S. 1 to six lanes from the Occoquan River to Mary's Way at Marumsco Plaza.
But a series of concrete barriers on Va. 123 and Occoquan Road, which runs adjacent to Va. 123, will create a limited access highway and prevent some drivers entering both Woodbridge Shopping and Station plazas.
Nelson Head opened Dixie Bones Barbeque at the Woodbridge Shopping Plaza at the intersection of Occoquan and Dawson Beach roads, one block south of the proposed interchange, more than 10 years ago. These proposed road improvements will put him out of business, he said.
"Specifically, no vehicles can turn left into the [shopping center] from Occoquan Road. That means no vehicles coming from Route 1 in either direction or Dawson Beach Road can access the center and our business. These two roads are the principal arteries to our restaurant. Denying customer access from these roads will destroy Dixie Bones," said Head.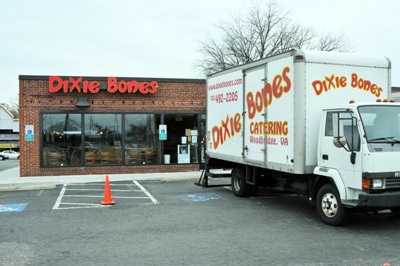 The plan for a wider U.S. 1 also calls for demolishing a portion of his building, the kitchen.
The Prince William Board of Supervisors is expected to approve the plan this summer.
"We know that several business owners have concerns, but they also need to realize that if the area is going to redevelop and see an increase in property values –– in which we all have an interest there –– we must get the widening done. You can delay this thing until it dies, but I am going to push this thing through if it's the will of the Board," said Prince William Board of Supervisors Chairman Corey Stewart.
Stewart says the county and business owners want to see the neighborhood improved and that there will be enough time between now and this summer to review the plan.
Woodbridge Supervisor Frank Principi will hold a town hall meeting for business owners this Saturday at 8 a.m. He says it's an attempt to be proactive and is not in response to criticisms of the project.