Pedestrian killed on Va. 234
October 15, 2010 8:25 am - Potomac Local News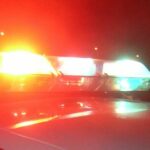 Correction: Police said the driver of a white box truck in which investigators believe struck a pedestrian who died this morning at a commuter lot on Va. 234 in Dumfries may have done so without knowing he struck the victim. Police are still looking for the driver, whom  they believe could provide investigators more information on the crash.
Update 11: 20 a.m. – Police said Va. 234 near Dumfries has been reopened in both directions following a pedestrian being struck and killed there this morning.
Update 9:30 a.m.
A 38-year-old man was struck and killed this morning as he tried to cross Va. 234 in Dumfries.
It happened at 6:40 a.m., at the commuter lot at the intersection of Va. 234 and U.S. 1., police said.
Police said the man walked across the road, where there is no cross walk, and was hit by a 1999 Dodge Ram truck driven by a 47-year-old man.  That man stayed on the scene of the crash and has not been charged.
Investigators also suspect an older model box truck also hit the victim at the same time as the Ram truck, or shortly thereafter, and then fled the scene, said Prince William police spokesman Jonathan Perok.
The victim was pronounced dead on the scene. Police call the death an accident.
"Since the victim crossed where there is no cross walk, the fault of the death lies with  the pedestrian," said Perok.
Police have asked anyone with information on the box truck that was in  the area at time of the crash to call Prince William police at 703-792-6500.
—
Dumfries, Va. –– Police closed the southbound portion of Va. 234 in Dumfries on Friday morning after a pedestrian was struck.
It happened in the 1700 block of Dumfries Road (Va. 234) near the entrance to Interstate 95, according to reports.
WRC-TV in Washington reported the pedestrian was killed.
Police at 7:15 a.m. said the northbound portion of the Va. 234, from U.S. 1 to the highway entrance ramp, was open with heavy backups.
The southbound portion of Va. 234 in the area was closed, according to police.
Slugs were told to avoid the commuter lot in the area, and instead use lots at nearby Potomac Mills mall, the Horner Road commuter lot and commuter lots in Lake Ridge.
We'll bring you more details on this story as we learn them.