News

Stafford mounts gang crackdown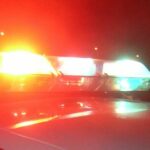 Stafford County, Va. –– Officials in Stafford County spent the summer cracking down on illegal gang activity, netting more than 51 felony, and 15 misdemeanor arrest warrants and petitions.
The county's sheriff's department so far has arrested 13 juveniles, ranging in age from 14 to 17-years-old, and six adults, on charges stemming from robberies, assaults by mob, brandishing firearms and gang participation, said Stafford sheriff's spokesman Bill Kennedy.
The crackdown comes as sheriff's deputies have noted an increase in gang activity over the past year. In response to the increase, a special sheriff's office unit was created to deal with the problem.
Most of those charged over the summer live in the Fredericksburg area, many of the gang members were previously known to law enforcement, have no national gang affiliation and have only been gang members for less than two years.
"They did, however, emulate and employ the signs, symbols and behaviors of national gangs they chose to emulate.  National statistics indicate that 80% of gangs are local or neighborhood based while 20% of gangs actually have national ties," said Kennedy.
The team officials assembled to deal with the gang problems used forms of electronic monitoring, informants and "aggressive enforcement" as they worked to arrest the alleged gang members.
Charles Phifer Ervin, 21, Steven Andrew Holloway, 19, Jarren Arees Fields, 21, Adrian Marguelle Clark, 20, Rashad Jamar Lightfoot, 19, and Julio Montelus-Demarcus Mayes, were all arrested as part of the gang enforcement, said Kennedy.
Send news and photos to Potomac Local
Subscribe Now for Free!
Get
updates straight to your inbox.
A word from our sponsors...